Advertise with Kentucky Equestrian on the US Equestrian Network
In 2014 we delivered over 10 million web pages and over 27 million ads to over 200,000 unique visitors on our sister site VirginiaEquestrian.com (Google Analytics). Our goal of supporting the equestrian community throughout Kentucky with as many free web tools as we can dream up - is working! If you decide to advertise on our site, you will be supporting this community and at the same time reaching them with your message. Paid advertising on our site is typically delivered using banner ads, sized to 468 pixels wide by 60 pixels tall or 768x90 (standard ad sizes) and is inserted on pages throughout the site. If you don't have a banner ad, we can help. Poke around and you'll see the banner ads as you visit different web pages. If you are interested in reaching our members with your message through paid advertising, please email us at danielle (at) kentuckyequestrian.com. We will be happy to send over a list of advertising options and associated costs.
If you want to list your horse for sale, or put any type of listing in our classified section, click here to create an account then you can add your horse to our classifieds for free.
Become a Sponsor of Kentucky Equestrian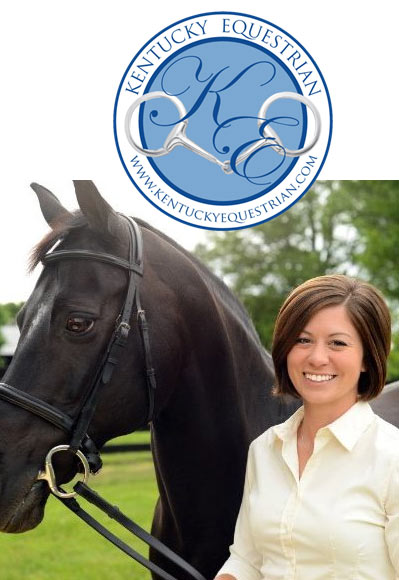 Welcome to KentuckyEquestrian.com!

My name is Danielle Aamodt, and I run KentuckyEquestrian.com. Actually, the members run the site, I just keep an eye on things. Our site allows members and visitors to buy and sell horses, tack, jumps, trucks, trailers and more with no fees or hidden charges. It allows businesses to post events, publish announcements and connect with the equestrian community throughout the state of Kentucky. Because everything is "self-service", our members do all the hard work and keep our costs to a minimum.

We do ask for sponsors to help make our site possible. Would you consider sponsoring our site? Read on!

Warm regards,
Danielle Aamodt


Bronze Sponsor
We post your banner on our site, linking directly to the webpage or website of your choice. Need a banner? We're happy to make one for you! As a Bronze Level Sponsor your banner will appear on our FRONT PAGE as well as throughout the website.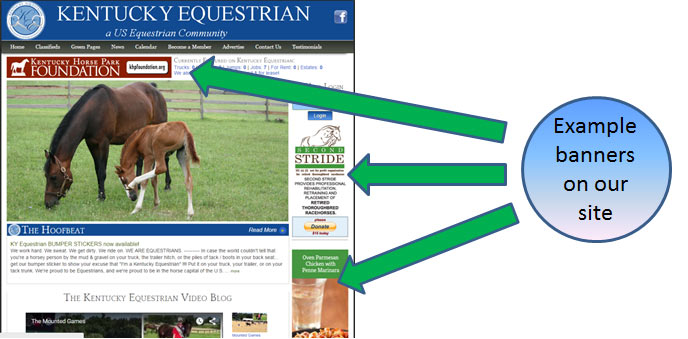 ---
Silver Sponsor
We print and distribute over 300 flyers every month at horse shows and other equestrian events.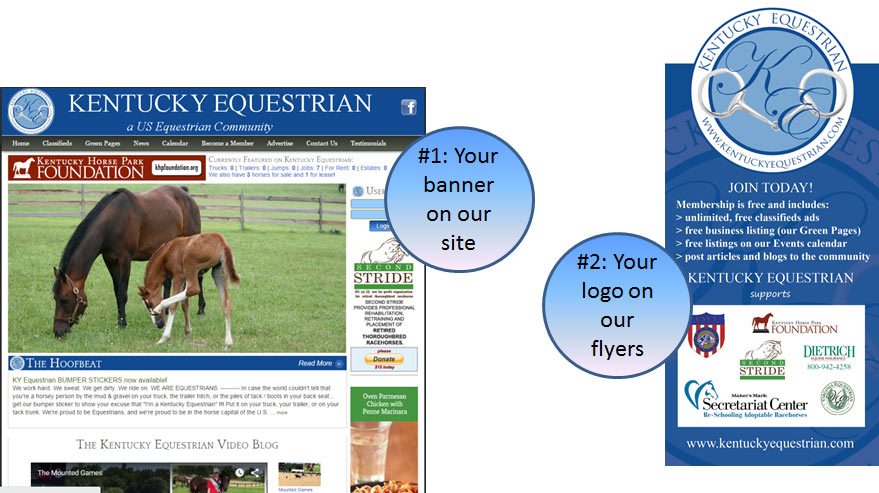 ---
Gold Sponsor
We give away over 100 t-shirts every month at shows and events!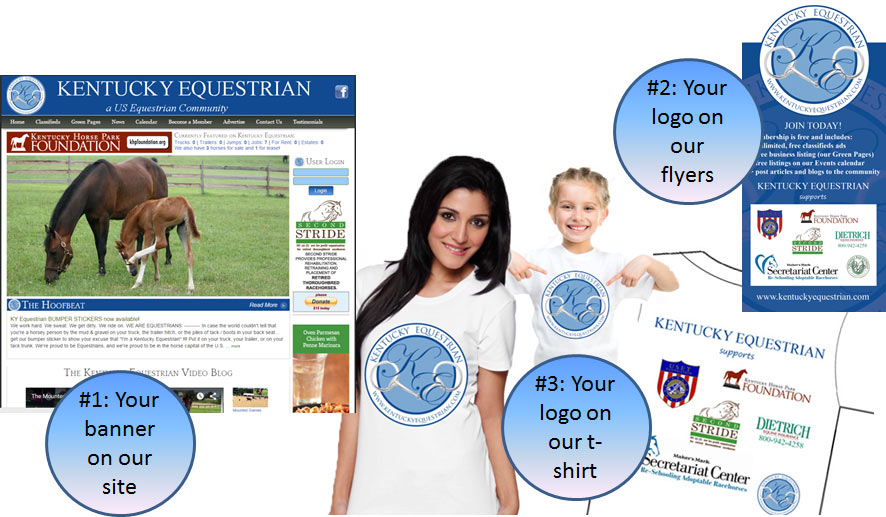 ---
LIMITED TIME OFFER
(offer good through 1/1/2016)